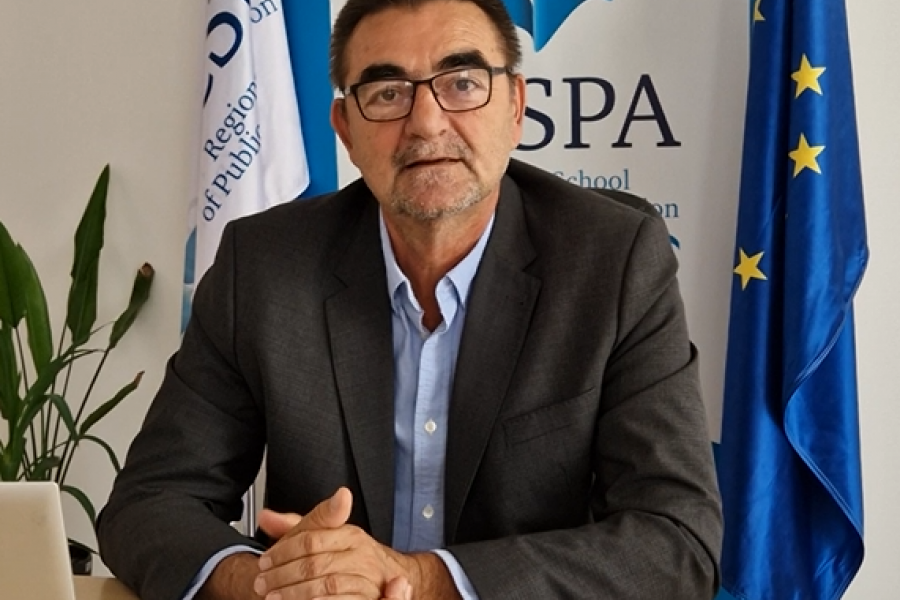 Continuous Support to Improve the Policy Cycle
---
Dragan Đurić, ReSPA Programme Manager responsible for the policy development and coordination thematic area, over the last eight years, has been dealing with numerous issues focusing on strengthening the role of public administration in advancing the evidence-based policy-making process, better regulation, and policy coordination in the Western Balkans.
He best knows how demanding it is to meet the unequal needs of the Western Balkans in policy planning and development and the complexity of the adjustment of regional policy planning to the EU integration agenda.
We talked to Dragan about the trends in policy planning and coordination, where the region is, and how to get better results to make good progress and influence accelerated EU accession processes in the Western Balkans.
Responses
Administrations in our region face similar challenges in policy development as in other countries. The main issues are the fragmentation of policies, the non-sufficient capacities of public servants to deal with complex policy problems, the inadequate cost of the actions planned for implementing these policies, and the unsatisfactory connections between the policies and the budget. All these issues are very relevant for the public administration reform.
Fragmentation and coordination
The lack of coordination among the stakeholders involved in various policies is a critical issue. The cross-cutting nature of strategies requires many stakeholders' involvement in their development and implementation. This means greater coordination.
Two years ago, ReSPA experts developed six studies on policy coordination in each Western Balkan administration. In short, these studies provided an overview of policy development and coordination processes and structures, including an analysis of the current strategic and legal frameworks, and an institutional setup for the development and coordination of public policies. These studies clarify the role of public administration in improving coordination among the relevant bodies and institutions responsible for public policies. To improve the coordination, we established a specific Regional Network of policy coordinators, contributing significantly to defining further concrete policy development and coordination activities.
Inadequate capacities
Regarding capacities, we recognised the need to strengthen the capabilities of public servants in dealing with complex policymaking issues. So, ReSPA set up a comprehensive regional training program devoted to building capacities for evidence-based policymaking in public administration. These capacities for evidence-based or evidence-informed policies are relevant to the centres of government structures and line ministries and all other strategic decision-making centres in academia and nongovernmental organisations.
Therefore, we established a specific Regional Academy on the Evidence-based policymaking process. The first module of this Academy was organised in Serbia, and the second one in Montenegro. We are preparing the third module in Bosnia and Hercegovina. The specific and innovative model of the Academy focuses on cooperation with host countries and their capacities to lead the lectures and present their achievements. It refers to the role and impact of public institutions, academia, and local NGOs in capacity development – the think-thanks. Another significant novelty is the meticulous process of selecting the participants, who will, at the end of the entire process, obtain the necessary knowledge and skills for further policy development work in their institutions. We wish to help them transform into successful agents for change who support progress remarkably.
Inadequate costs
We also recognised that implementing Public Administration Reform strategies in the Western Balkans is severely hampered by their inadequate costs. It relates not only to PAR but to all other strategic documents. These strategies are often unsupported by well-developed and accurately estimated action plans indicating the funds required for implementing the programs and activities.
Implementation of any government program or strategy requires adequate resources and costs money. To implement programs and strategies effectively, institutions must know the implementation-related costs and their financial impact on their budget. So, costing should be an integral part of the strategic planning process. One of the causes of poor costing policies of government strategies is the lack of the capacity for developing and implementing sustainable financial frameworks, including that for making cost estimates.
ReSPA has decided to develop methodological guidelines for strategy costing. Our Guide, developed several years ago, provides standardised methodological guidelines for costing government strategies. It describes the standardised costing process applicable to any government program or strategy, and illustrates it using examples based on PAR strategies of countries in the region.
Applying these guidelines produces more consistent, reliable, and verifiable cost estimates that could serve as a basis for effective and efficient strategy implementation and government and donor support planning. We also developed the cost calculation tool suitable for costing strategies based on action plans in a separate user-friendly Excel document.
Year by year, this Guide has reemphasised the importance of costing in government policymaking and strategic planning processes. It provides a valuable reference for future strategy costing exercises in different countries and sectors.
Integrated planning
Finally, the linkages between planning and financial affordability of policies, which will ensure that policy and budget processes operate coherently, efficiently, and in an integrated manner, is also in our focus.
Reasonably, policies must be affordable, economically efficient, and financially sustainable. Policy development should include consultation with relevant domestic and foreign interest parties. Therefore, an Integrated Planning System should ensure that all policies are developed, implemented, communicated, and appropriately monitored. Also, appropriate IPS supports the transposition and implementation of the EU Acquis in all sectors. It helps integrate and coordinate public investments from the domestic budget with EU support.
Through these policy development and coordination activities, ReSPA supports the implementation of the Principles of Public Administration developed by SIGMA, which serves as a soft acquis for PAR.