News
27 07.20.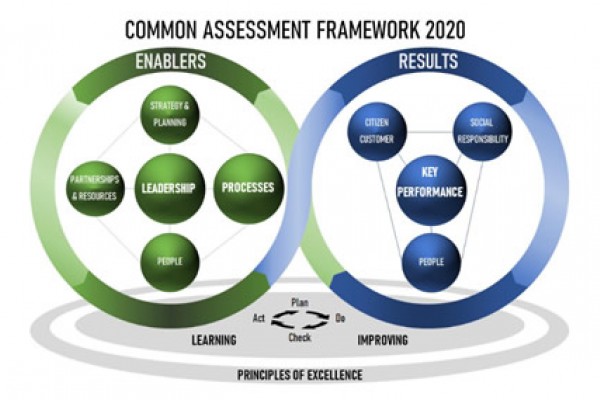 Implementation of CAF2020 as the standard for Excellent Management in the WB public administrations
ReSPA and KDZ presented the new CAF2020to Quality Management Working Group Members at online webinar organised on July 23, 2020.
The webinar gathered more than 35 participants encompassing ReSPA Quality Working Group members, ReSPA Seasonal school 2020 Experts and guests who were introduced with the CAF2020 (Common Assessment Framework).
Compared to the previous CAF2013 system, the new CAF2020 provides novelties by introducing the areas of well-being, agile management and sustainable development goals.
Its main purpose remained the same – to offer fast access to organisational assessment of public administrations and to enable the leaders to gain deep insights into the status and improvement areas of public administration organisations.
The participants got insights into how to apply the methodology in their organisations quickly and effectively  
Mag. Thomas Prorok, Deputy Managing Director of KDZ Centre for Administrative Research Areas, highlighted a genuine need of any ambitious team to have continuous organisational improvement and positive change while emphasising that CAF2020 may be an excellent supporting tool.
Mag. Philip Parzer, MSc Senior Consultant, Trainer and Coach, provided practical examples on CAF use in Austria and other EU member countries.
During the webinar, the attendees discussed their experience in coping with the Covid-19 pandemic and the possibilities that CAF2020 provides in overcoming the pandemic and other extraordinary situations.
ReSPA and KDZ will continue to implement CAF among the WB public administration institutions
In the framework of the BACID II project, relying more and more on online content (webinars, online coaching and mentoring), we are continuously devoted to implementing CAF in the public administration institutions in the Western Balkans.  Focusing on successful and effective implementation of the CAF2020, we provide an additional opportunity for our QM Members by organising online-mentoring sessions through which they will have a chance to continue the collaboration with the trainers after the webinar.
CAF 2020 is applicable not only to the public administration institutions but to the private sector and civil society as well
"This webinar clearly shows that CAF2020 may be applicable not only to the public administration institutions but also to the civil society. As we heard from QM Expert Tihana Puzic, there is also detected interest for CAF in the private sector. On the other hand, agile management is also applicable not only to the business sector (software industry) but to public administration institutions.
Thus, we in ReSPA will focus our activities onto CAF2020 and agile management implementation in public administration institutions trying to communicate and exchange the experiences with civil society and business sector." Goran Pastrovic, ReSPA Programme Manager, pointed out.
Archive