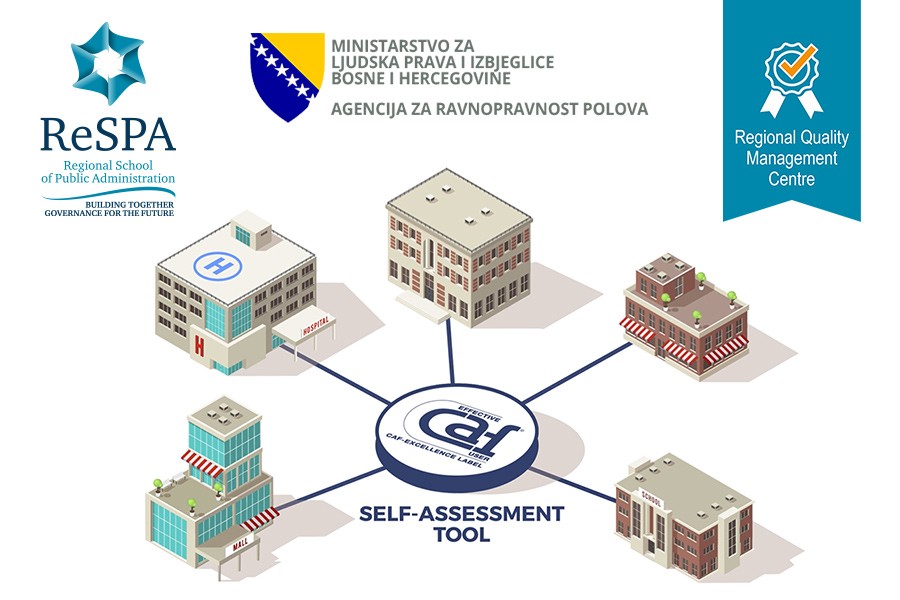 ReSPA organized the final CAF Workshop at the Agency for Gender Equality of BiH
---
After two CAF workshops in the project of CAF implementation, the Agency for Gender Equality of BiH (ARS) has been successfully finalized the third and final CAF Action Plan workshop, which has taken place today virtually. Self-assessment group members from the ARS went through clustered recommended actions for improvement. Apart from the CAF Self-assessment group members, representatives of ReSPA, CAF Experts, Mr Kenan Avdagić, CAF Correspondent for BiH, attended the CAF Action Plan Workshop as a guest speaker. The Self-assessment group members from ARS have agreed on the future actions, and concrete measures for each step identified officials tasked to work on the measures. They outlined the timeline needed for their implementation. The CAF Action Plan was produced in such a way, with "quick wins" measures and priority measures identified for implementation.
During the CAF implementation, ten Self-assessment group members of the ARS employees were guided by experienced CAF Experts, Ms Bernadette Troper-Malz and Ms Tihana Puzić.
The first CAF Workshop focused on inter-sectoral communication and cooperation in the ARS, primarily detecting potential barriers and bottlenecks in many aspects of the process and product optimization.
During the Second – CAF Consensus Workshop, members of the Self-Assessment Group summarised the self-assessment by focusing on the individual inputs and agreed on the strengths, areas for improvement, and a list of all recommended actions.
ARS has been provided with the Self Assessment report and will receive a Report on the Action Plan to improve the overall ARS quality performance.
"CAF workshops have further strengthened our team spirit, despite all the difficulties caused by the pandemic, which is very important for me personally. I am sure that we can complete the implementation of CAF as a prerequisite to proceed with CAF certification.

I especially want to thank the ReSPA team and CAF Experts, who were strong supporters not only from the experts but also from a human perspective, which is why all of us at ARS felt the strength of the ReSPA - CAF team. We look forward to further cooperation, knowing that this experience with CAF Workshops gave us additional strength and value."

Ms Samra Filipović, Director of the Agency for Gender Equality of Bosnia and Herzegovina
Within the Regional Quality Management Center (RQMC), ReSPA aims to improve Quality Management Agenda in the public administrations regionally by the increasing institutionalization of the CAF within public institutions. Over the past few months, RQMC established Regional CAF and PEF networks coming from ReSPA Members public administrations to achieve this goal.
"Several public administration institutions from the region are either implementing the CAF or are in the pipeline for the CAF implementation. This result comes from our commitment to improving QM in public administration institutions in the region. That also means the institutions have recognized CAF as a modern and simple tool for improving internal processes and the quality of the services. It gives us the strength and sets forth an expectation to continue improving the QM in the public administrations regionally and build upon that trust in the years to come."

Ms Olivera Damjanović, ReSPA Programme Manager