Events calendar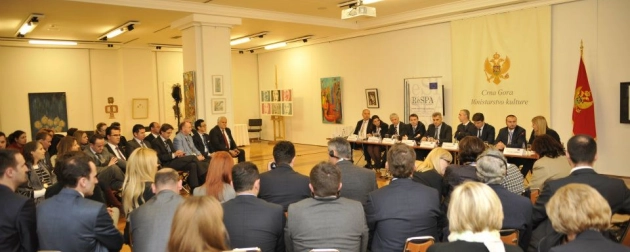 6 ReSPA Annual Conference
Info: Application closed.
The Regional School of Public Administration (ReSPA) organized its 6th Annual Conference, with the theme "Good Governance through Participative Democracy and Client Oriented Public Administration, on 19-20th of April, in Danilovgrad, Montenegro.
On the occasion, Ministers from Croatia, Montenegro and Macedonia, in charge of the ministries of public administration reform implementation as well as high officials from DG Enlargement and the European Commission were present and delivered opening remarks.
The event was also attended by the Public Administration Institution representatives of Western Balkan countries, European Union, representatives of foreign missions accredited in Montenegro, international organizations, and civil society dealing with issues related to the Public Administration Reform and Good Governance.
The main objective of this conference was to raise awareness on the changing mode of the Governance over the last decades in the Western Balkans influenced by globalization and the need to adjust to international economic, social and technological development.
It also discussed the increasing lack of confidence among the citizens with regards to the functions of the government and the quality of the services that Public Administration provides.
The Programme on Client Oriented Public Administration was promoted and a platform with discussions dedicated to the basic principles of Democracy and Good Governance (participation, openness, transparency, accountability) was initiated.
All events