News
06 05.20.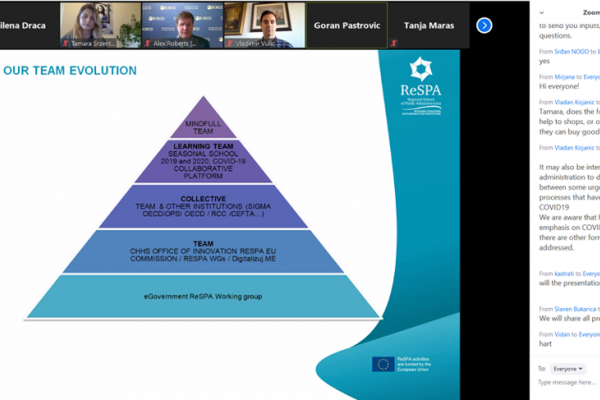 Second COVID-19 Western Balkan Digital Collaboration Platform meeting
New ways of convening, talking and learning as agile support to WB governments in overcoming detected challenges caused by the pandemic
During the meeting held on Monday, 04 May 2020, more than 40 WB IT professionals within our eGovernment group discussed the most appropriate forms for intervention as ReSPA's response to their needs in overcoming the pandemic. Also, they have informed about OECD, CEFTA, RCC and CHHS experiences related to the situation with the pandemic.
Survey analysis - a guideline on detecting the needs and forms for intervention
ReSPA has launched the online survey aimed to emphasize priorities in the resolving of detected institutional challenges in public administrations and public services among WB governments. It included representatives of the Public sector management-PA, Civil service agency, Budget, ICT, etc. (90%) and Home affairs sector (10%) among Western Balkan public administrations.
Survey participants detected the biggest challenges, main obstacles and the most needed forms for intervention in overcoming the identified challenges:
Five institutional challenges according to priority are: optimization of the internal processes in the institutions (56.52%), creating a public administration web platform for collaboration (52.17%), notifying the citizens about the status of the administrative procedures (47.83%), defining online platforms to be used in different situations (43.48%) and teleworking for the public administration (43.48%).
The main obstacles in resolving the identified challenges are: inadequate budget (27.27%), lack of knowledge and experience (18.18%), lack of intra-institutional communication (13.64%) and lack of adequate inter-institutional coordination (13.64%). More than 47% of survey participants consider their organizations don't have a policy and procedures in place to initiate and implement the required changes.
The most needed forms for intervention as ReSPA's support in overcoming the identified challenges are: mentoring (40.91%), webinars (18.18%), video conference meetings (13.64%), coaching (13.64%) and hackathon (9.09%).
Priorities in resolving detected challenges and needed forms for intervention highlighted during the meeting
The priorities that attendees highlighted are the insufficient capacity to enable faster helpdesk support (related to thousands of complaints of the users who couldn't access their e-government accounts), creating a collaboration public administration web platform, teleworking for the public administration and define online platforms to be used in different situations.

The potential of the COVID-19 Collaborative Platform in supporting WB countries to overcoming the identified challenge was summarized through several forms for interventions such as coaching, mentoring, webinars, in-country supports and hackathons.
OECD, CEFTA, Regional Cooperation Council and CHHS experiences related to the situation with the pandemic
The regional context of the meeting was enriched by presentations of eminent experts:
Alex Roberts, Deputy Head of the Observatory of Public Sector Innovation (OPSI) at the OECD presented the novelties like artificial intelligence in the public administration and innovative responses to the pandemic such as apps to help track and trace, platforms which help volunteer to provide labor, Covid-19 website for kids, etc. In long term, many countries are examining how they can ensure that this kind of shocks can be avoided in future and what can be advantages of the pandemic that can change things for good e.g. in terms of environmental goals to use trains instead of aeroplanes.
Edna Karadza, CEFTA / SEED+ Project Manager presented how the digitalization helped in trade facilitation with established set of measures to support Western Balkans to cope with transport and trade challenges caused by the pandemic. To enable the free flow of goods through CEFTA, work of established green corridors and lanes was supported by a digital platform for systematic electronic exchange of data (SEED) through which pre-arrival notifications about trucks coming to the borders were sent to all agencies involved in the clearance of goods to enable them to prepare in advance and make possible for trucks carrying essential goods to pass the borders without waiting in the queues.
"I have been working on digital transformation for the last 20 years and this time a digital transformation was happening in front of my eyes. It was a huge collaboration of all administrations from the WB, responsible ministries, customs, agencies involving in the clearance of goods, that also adjusted to teleworking and digital communications to enable a prioritized passing of the essential goods through WB. We implemented the system within 15 days. I strongly believe that WB united by a common goal can push forward things together. I think we are ready." she highlighted.

Pranavera Kastrati, Senior Expert on Economic and Digital Connectivity, Regional Cooperation Council, among many topics emphasized that the region needs a structured and coordinated response to the situation. Digital transformation as a regional umbrella amplify the more evident needs for the improved regional digital skills in public administrations but also in the population at large. Launching digital skills learning platforms can be one gateway for the Western Balkan's improvement in this area.
Tamara Srzentić, Deputy Director, Office of innovation, California Health and Human Service agency (CHHS), reiterated that this Collaborative Platform is force platform to share best practices, recourses and tools and to connect WB IT professionals with coachers, innovations and volunteers around the globe but also to be one for another, to support each other. She presented the novelties related to the website Covid-19 in California where her multifunctional team in short period developed many tools focused on real human needs such as online applying for marriage licenses to conduct the weddings, food delivery for older Californians who can't go to the grocery shops, child care options with child locator, employment assistance, etc. Most of the tools they used are open source and can be applied in WB countries.
Kaido Paabusk, SIGMA/OECD's Senior Policy Adviser, Country Co-Ordinator for Civil Service and Public Administration provided the information about service delivery during the crisis and highlighted that SIGMA will further on collect information related to the service delivery area – to detect the area where they could help in the WB countries.
Next steps and Action Items
"Now more than ever it is obvious that ReSPA has a strong intermediate role among WB governments. We are determined to support our members proactively in overcoming the Covid-19 pandemic by providing transfer of know-how, together with our prominent partners such as CHHS, OECD/SIGMA, RCC, UNDP, etc. inclusively and holistically" concluded Goran Pastrovic, ReSPA Programme Mannager at the end of the meeting.

Archive