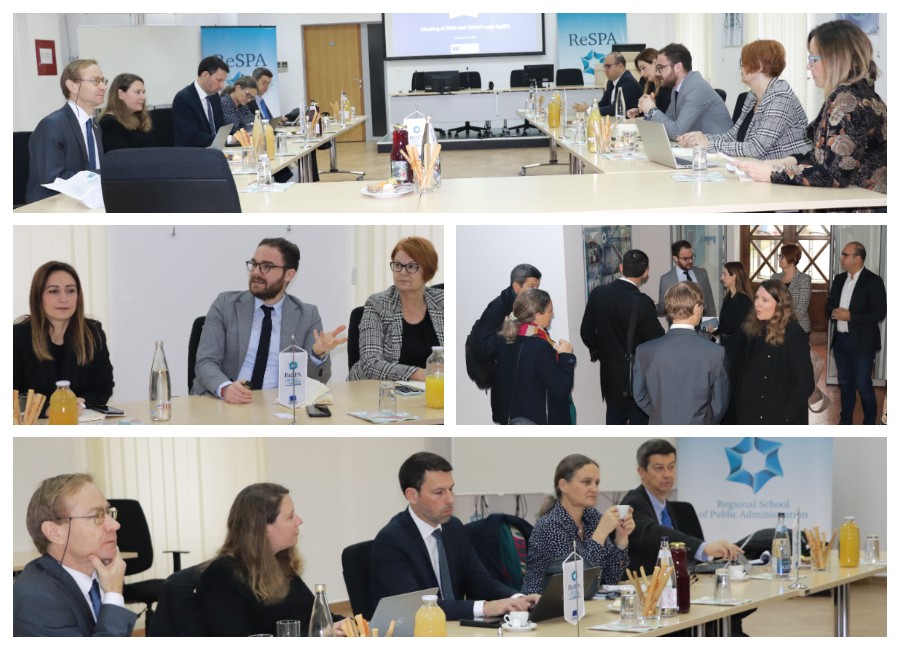 ReSPA and the French INSP: Ample Possibilities for Intensified Collaboration for the Benefit of the Western Balkans Public Sector
---
Today ReSPA team hosted a French delegation consisting of Mr Julien Theron, Deputy Director of of the National Institute of Public Service (INSP), Ms Pauline Martin, General department of administration and public service, Mr François Lafond, International technical expert for public administration, Mr Johann Uhres, Cooperation and Cultural Affairs Counsellor, French Embassy to Montenegro and Ms Isabelle Thomas Delić, International technical expert for European affairs.
The guests discussed with ReSPA team possibilities for a more strategic and comprehensive collaboration in the upcoming period and exchange of best practices among them in order for public servants from the Western Balkans to access learning and capacity-building opportunities by the renowned INSP experts.
After the short tour of ReSPA premises, Maja Handjiska Trendafilova pictured the strategic approach of ReSPA and discussed possibilities for more intensive cooperation between ReSPA and INSP and French institutions, focusing on the needs of civil servants from the region. "There are ample possibilities for building mutual collaboration between ReSPA and INSP and French institutions, from study visits and various joint capacity-building activities to the EU-WB Mobility schemes partnership. French experience and reforms in the public sector are an invaluable asset for advancing our public administration reforms in the context of EU integration," underlined Director Handjiska.
Genti Xhaxhiu, Programme Manager-Coordinator, introduced the guests with ReSPA programme of work, novelties and plans for the upcoming period, focusing on the various support instruments, such as the peer bench learning, in-country support, the intra-regional Mobility schemes and other ReSPA activities that can be enriched jointly with INSP colleagues. Ranka Bartula-Mušikić informed guests on the results of the monitoring exercise that ReSPA performs annually and with fresh insights from the regional Staff satisfaction survey piloted in Albania and North Macedonia.
Guests from the INSP shared their views and opened the doors to various perspectives of collaboration on regional and local projects, emphasising the necessity for ReSPA to streamline and synergise its portfolio of actions towards capacity building on EU accession matters, absorption of European funds, as well as the attractiveness of the public sector, digitalisation and green agenda.
The meeting served as a solid ground for further joint initiatives between ReSPA and INSP to benefit civil servants from the Western Balkans.