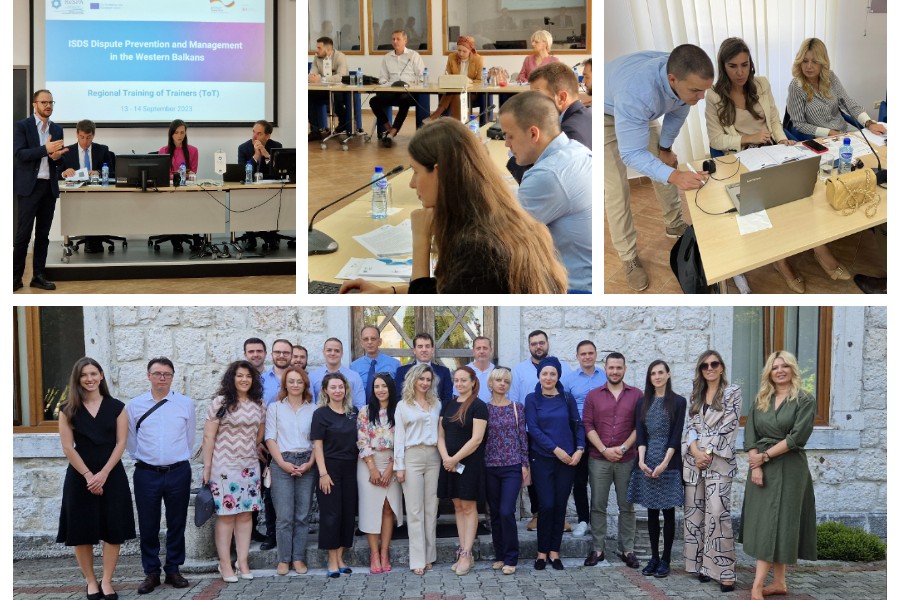 Regional Training of Trainers on "Dispute prevention and management in the Western Balkans": Enhancing Regional Expertise for an Investor-Friendly Environment
---
13-14 September 2023, ReSPA Campus
In collaboration with the German Agency for International Cooperation (GIZ), ReSPA contributed to a regional Training of Trainers (ToT) program aimed at empowering public servants from the Western Balkans region, hailing from various governmental bodies such as Ministries of Trade and Economy, State Advocate/Attorney Offices, and Foreign Investment Agencies to become proficient trainers. By nurturing a network of capable trainers, this ToT program elevated the level of expertise within the region on a key topic such as "Investor-State Dispute Settlement". It sought to cultivate institutional knowledge, foster policy discussions, and ultimately contribute to creating a more stable and investor-friendly environment.
Under the guidance of Mr. Michael Waibel and Mr. Ilija Mitrev Penushliski, this intensive two-day program comprised three modules. These modules seamlessly combined lectures with practical exercises, covering crucial topics, including international investment treaty negotiations and interpretation, mechanisms for dispute prevention, alternative dispute resolution, and international investment arbitration.
The participants gained a comprehensive understanding of the Investor-State Dispute Settlement (ISDS) mechanism, explored relevant legal frameworks, and delved into alternative dispute resolution methods. Through the analysis of case studies, scenario building and teamwork, they identified effective strategies for preventing disputes and developing the skills required to design and deliver impactful training sessions.
"This training represents a significant step towards establishing enduring mechanisms for dispute prevention and management. However, it is crucial to recognize that these mechanisms can only be effectively implemented when our public administration functions efficiently. ReSPA is committed to promoting good governance and effective public administration, both of which are pivotal for the successful implementation and sustainability of dispute prevention and management mechanisms. A robust public administration, characterised by transparent decision-making processes, streamlined bureaucracy, and accountable institutions, enhances our capacity to resolve conflicts through negotiation and mediation. With this training programme, ReSPA marks a significant milestone in the Western Balkans' journey towards creating a more stable and attractive investment climate, with a strong emphasis on dispute prevention and management," said Gentian Xhaxhiu, ReSPA Programme Coordinator.
Building upon the knowledge, skills and curricula of the ToT programme, the participants will develop and deliver national training back in their home administrations.