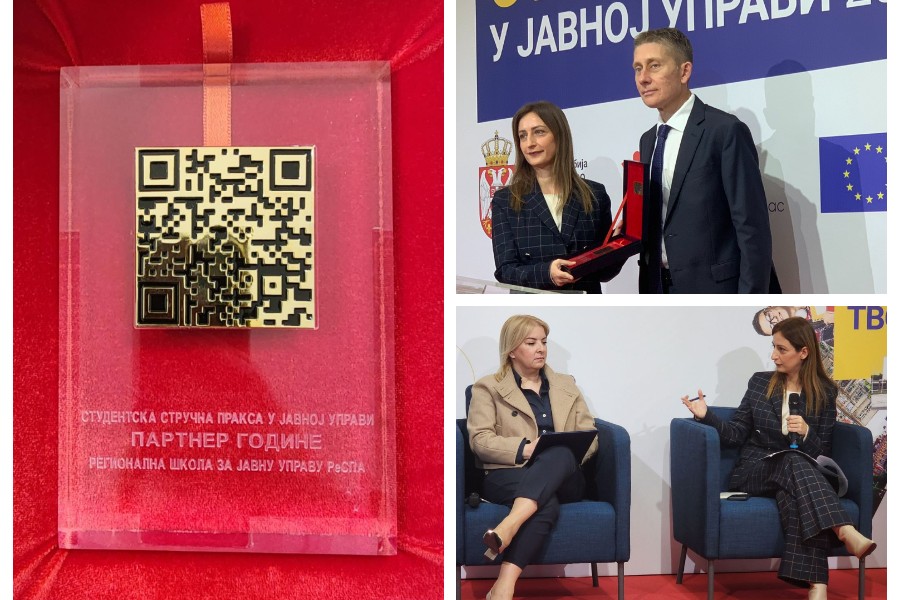 ReSPA was honoured with the inaugural "Partner of the Year" award by the Ministry of Public Administration and Local Self-Government of Serbia: For the first time, the Ministry awarded one institution as part of the Student Professional Practice Fair
---
15 November 2023, Belgrade, Serbia
Mr Aleksandar Martinović, the Minister of State Administration and Local Self-Government of Serbia (MDULS), formally commenced today the third Student Professional Practice Fair in Public Administration 2023/2024. This collaborative initiative between the Ministry and five state universities in Serbia aims to offer students opportunities for their initial professional experiences. Around 900 positions in 73 authorities across 33 cities and municipalities throughout Serbia are available for students to gain practical insights. Minister Martinović highlighted the diverse opportunities for students, including free training sessions focused on digital literacy, personal development, and communication skills. Notably, outstanding participants can earn a study visit to a European Union member state.
A significant addition to this year's Fair was the introduction of the "Partner of the Year" award, bestowed upon ReSPA. Receiving the award, Director Handjiska-Trendafilova expressed gratitude for this acknowledgement, rooted in the trust and respect between the MDULS and ReSPA, and reiterated the institutional dedication to cultivating qualified teams and staying abreast of modern administration trends.
"I extend my personal gratitude, along with that of my team, for this award, which we see as an added impetus for us to strive for excellence continually. ReSPA is a trusted partner, and we aim to reinforce this partnership in the forthcoming period. Our upcoming strategy and work plan for the next year encompass various educational initiatives and mobility programs designed to connect civil servants from Serbia and neighbouring regions with counterparts from the EU institutions and EU member states.
As you're aware, this initiative stands as one of the champions from last year's regional competition, the Western Balkans Public Administration Award, which we host in collaboration with SIGMA/OECD. ReSPA has actively advocated for it among regional administrations at a dedicated event, seeing it as a prime example of best practices from which administrations across the region can glean valuable lessons.
The very fact that attracting young talents into public administration is the focal point of this year's High-Level Political Dialogue that we are organising in Sarajevo in two days underscores the significance of involving young individuals in state administration endeavours. Ministers responsible for public administration reform from the region, officials from the European Commission, and our partners from international institutions and CSOs will deliberate on tangible measures to modernise administration to make it an appealing employer for young, educated talent.
We have an array of upcoming activities lined up, such as establishing a regional platform for knowledge management in public administration, introducing new modules in the Regional academy on evidence-based public policy development, a multitude of multi-module programs, and training sessions tailored for managers in EU integration, digitalisation, and policy development.
Acknowledging that the strength of public institutions hinges on the expertise and adaptability of their teams in sync with modern administrative trends, we pledge to intensify our efforts in implementing various activities to foster empowered civil servants. Our goal remains consistent – to influence the advancement of public administration, develop services centred on citizen needs, and foster the overall progress of our society.
I firmly believe that the ReSPA team will continue to stand as your trusted partner, collaborating closely with you to drive further modernisation in state administration, all for the betterment of every citizen in Serbia" said Maja Handjiska-Trendafilova, ReSPA Director.