Common Assessment Framework (CAF)
---
One of the key objectives of the ReSPA is the development of the Regional Quality Centre (RQC) services in the Western Balkan region.
We in ReSPA proudly awarded "Effective CAF-USER" Label as proof of our overall excellent institutional performance and continually supported CAF full implementation among WB public administrations and their related organizations.
In the framework of BACID II project funded by the Austrian Development Agency and in cooperation with KDZ (Centre for Public Administration Research), we are devoted to increasing the capacities for CAF implementation and its institutionalization among WB institutions by setting pilot initiatives.
CAF is a Quality Management self-assessment instrument which can relatively easily and in a fast manner, determine strengths, setting a basis for further institutional improvement (so-called CAF improvement action plan). That is why it is a perfect diagnostic tool suitable as a quality assessment system for any type of public administration institution or its selected departments, regardless of EU, national, regional or local level.
CAF is the quality management
CAF is self-assessment by members of the organization
CAF needs self-assessment teams
CAF is a questionnaire with 200 questions
CAF means consensus
CAF is a guide to public management and governance
CAF self-assessment is a tool for identifying areas of improvement
CAF is Bench learning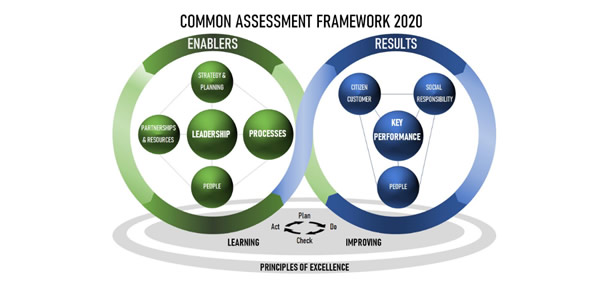 Tailored to the needs of public administrations
CAF is a quality management tool developed by public administrations for public administrations.
Improve the performance of public administrations
CAF identifies strengths and improvement areas of the organization, while at the same time being sensitive to improvements and measures for further development.
Simple application
The CAF was developed to be used by public administrations on its own or only with little external support.
Quick and sustainable results at low cost
The CAF questionnaire can be downloaded from https://www.respaweb.eu/caf. Compared to other quality management tools, results are quickly available.
Sustainability
Self-assessment and quality management with the CAF are the beginning of a continuous improvement process in an organization. The regular use of CAF (optimally every two years) is recommended.
External feedback
With the CAF label, profound evaluation and confirmation by external feedback is possible
Learning through comparisons and networks
CAF was developed for all public administrations in the EU. Based on the CAF grid, CAF users can compare their own results with others and learn together.
Improving the image of public administrations
CAF leads to a modern, citizen-oriented and efficient organization that reflects transparency and participation and thus strengthens the legitimacy of public administrations. Citizens, customers, employees as well as politics and administration benefit from a better image.
RQC accompanies public administrations and their related organizations in the preparation, implementation and follow-up of the CAF application.
The main elements of the implementation services are:
Advice on the adaptation of the CAF-questionnaire to the individual needs of the organization - 1-day adjustment workshop;
CAF- Self Assessment team training - 1-day training workshop;
Constant monitoring of the entire CAF process;
Preparation and moderation of a 2-day CAF self-assessment workshop; With more than 150 employees, it is recommended to conduct parallel CAF assessment workshops.
Documentation of the results of CAF-self-assessment workshop in a consolidated report;
Preparation and moderation of the 1-day CAF action plan workshop. CAF-Knowledge-Base:
RQC provides CAF related materials, presentations, guidelines, educational videos, and more to interested organizations, executives, and quality managers of public administrations. All relevant documentation you can find on the link
Basic seminar for CAF "newcomers"
RQC offers basic seminars for CAF "newcomers". The 1.5-day workshop will introduce the basics of quality management and background information on CAF and other quality management models. Practical exercises in simulated self-evaluation processes complete the workshop.
Training of CAF moderators
RQC offers customized training for CAF moderators. In this training, you will get all the tools to introduce CAF independently in your organization and to implement the change process successfully.
RQC strives to build a regional CAF network and make best practices of successful CAF applications accessible to other interested organizations:
For all relevant CAF documents visit the link.
CAF database contains the contact details of CAF users to be used for the know-how-transfer.
RQC organizes regular network meetings to promote the exchange of information between CAF users and to promote and develop CAF as a quality management tool sustainably.
Get in touch with the members of our team
ReSPA acts as a CAF-centre in the region and has set up a Regional Quality Centre (RQC) for this purpose. Das KDZ arbeitet zum Thema CAF in Kooperation mit dem Bundeskanzleramt. The close contact of RQC with the KDZ-Centre of Public Administration Research guarantees the regular exchange of professional experience and know-how with other European countries and CAF-experts.
Regional Quality Centre
KDZ - Centre for Public Administration Research