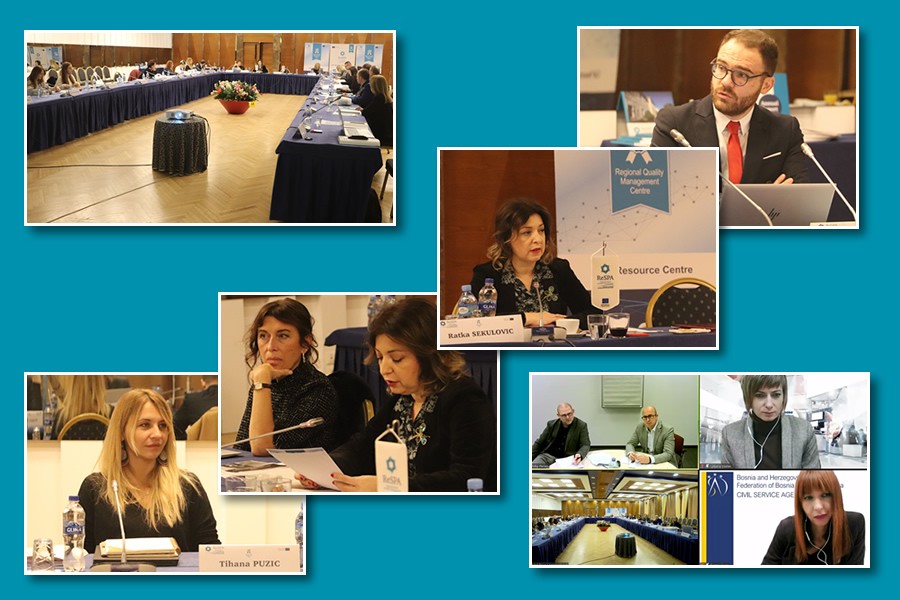 The first Annual Coordination Meeting of Regional Quality Management Centre
---
6 December 2021
Tirana, Republic of Albania
The Meeting gathered participants from CAF and PEF networks from ReSPA Members, guest observers from ReSPA Governing Board at Senior level and ReSPA RQMC team members to discuss the RQMC Rules and Procedures, PEF Guidelines and Annual Priority Activities plan for the Centre in 2022.
The Meeting served as a forum to confirm the nominations of regional CAF and PEF Network as well as the expansion of PEF Network Members.
The roles of both Networks' were discussed while the tasks and roles of PEF Network were the subject of debate of proposed PEF Guidelines. The PEF Guidelines were presented by the KDZ Experts who elaborated on the RQMC in ReSPA will have in the future when issuing the CAF Effective User Label.
Additionally, ReSPA regional expert presented the first findings from Regional Periodical QM Analysis, the ongoing assessment of the level of QM application in the WB countries and existing needs for its enhanced usage.
The meeting was used for proposing the final drafts of Rules and Procedures and PEF Guidelines which will be adopted within agreed procedures in the nearest future.
"Much of fundamental work has been done and the foundations of the RQMC are now in place. This was a great opportunity to confirm this together with Members from CAF and PEF networks coming from ReSPA Members public administrations.
Still, a lot of work is in front of all of us, especially on refining the procedures related to issuing the CAF Effective User Label.
I am personally very satisfied with the energy and commitment the public servants in this two networks have demonstrated, because only together we can continually building the RQMC but also improving the QM Agenda in the Region" said Ms Olivera Damjanović, ReSPA Programme Manager.