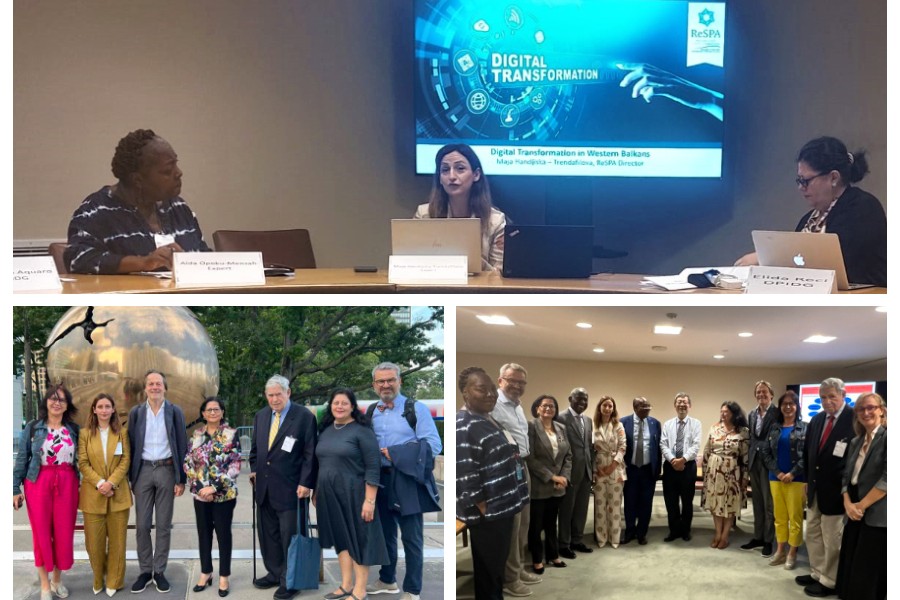 Handjiska-Trendafilova at UN Expert Group Meeting: Successful implementation of SDGs in 'whole-of-society' commitment is vital to overall regional progress. ReSPA continues to back governments in this complex and long-term endeavour
---
7-8 September, UN, New York
UN expert group meeting on "Enhanced Innovation to Build Resilient and Responsive Public Administration to Support the Implementation of the 2030 Agenda for Sustainable Development - An SDGs Mid-Term Review Perspective", organised by the Public Service Innovation Branch (PISB), Division of Public Institutions and Digital Government (DPIDG), the United Nations Department of Economic and Social Affairs (UN DESA), gathered distinguished experts and UN representatives who shared the best of expertise, knowledge and experience leading UN work in supporting its member countries towards successful implementation of SDGs.
ReSPA Director, Maja Handjiska-Trendafilova, under Expert Dialogue "Technology diffusion and technology uptake for innovative response", presented achievements of the Western Balkans in implementing SDGs, focusing on digitalisation and ReSPA's instruments of support to the governments that work for the overall region's progress in SDGs. While backing governments in strong leadership, integrated policies and digitalisation, focusing simultaneously on accountability and transparency, ReSPA plays the role of the SDG agent in the Western Balkans. "Achieving the SDGs is a complex and long-term endeavour, but with catalysed renewed efforts, dedication and collaboration, it is possible to make significant strides despite the stalled progress at the midpoint of Agenda 2030. ReSPA spurs regional connectivity and provides sets of policy dialogue, networking and capacity-building activities and instruments that can support the Western Balkans' governments to build a holistic and integrated approach that considers various aspects of sustainable development." underscored Director Handjiska-Trendafilova.
The Expert Group Meeting and the series of bilateral meetings held in its margin come at a critical juncture as an opportunity to discuss the public service delivery at the intersection of innovation, public sector rebuilding and multiple crises through the lenses of the mid-term review of SDGs. This Expert Group Meeting enhanced the understanding of challenges and opportunities in building political leadership and institutional capacities, enhancing regulatory frameworks and inclusive processes, ensuring responsible technology diffusion and technology uptake, strengthening public financial management systems, and rebuilding a public administration workforce through enhanced innovative approaches and technologies.