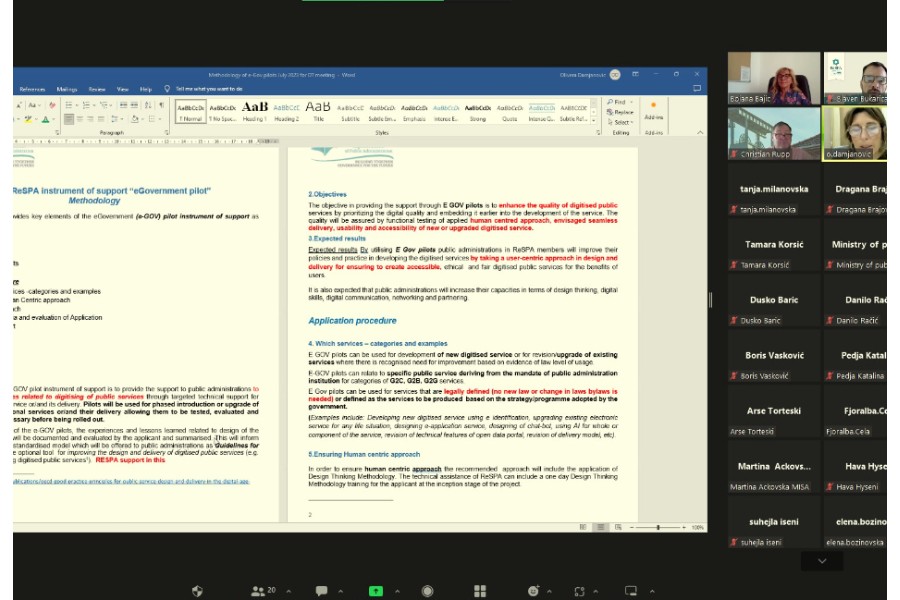 Digital Transformation Sub-Group Meeting: Valuable Input from Our Working Group Members in Developing e-Gov Pilots
---
12 September 2023, Online
At ReSPA, we have developed e-Gov pilots as a tool to enhance public services by harnessing digital technologies. These initiatives aim to improve the efficiency and accessibility of government services for citizens and businesses.
The advantages of e-Gov pilots are twofold: On one hand, they can yield cost savings for governments by digitizing processes, reducing paperwork, streamlining workflows, and minimizing the reliance on physical infrastructure and resources. Moreover, they promote transparency in government operations. On the other hand, e-Gov pilots offer online services and tools that encourage greater citizen engagement in the governance process. This facilitates citizen feedback, online consultation participation, and access to government information. Consequently, it enhances efficiency, benefiting public administrators and citizens alike.
The meeting served as a platform to discuss the current needs in the region, enabling us to tailor e-Gov pilots that are executed effectively and aligned with specific requirements. Our success hinges on collaborative efforts and attentive consideration of the actual needs and challenges in shaping our work program.
Recognizing that the benefits of e-Gov pilots can vary based on the initiative's scope, level of implementation, and the government's commitment to leveraging digital technologies effectively, we rely significantly on our stakeholders in this journey.
Well-executed e-Gov pilots can pave the way for a more efficient, transparent, and citizen-centric government—which is our shared goal and aspiration. During the meeting, we received crucial input from members of our working group, which plays a pivotal role in shaping our further e-Gov pilot initiatives to be well-executed and to improve public services.