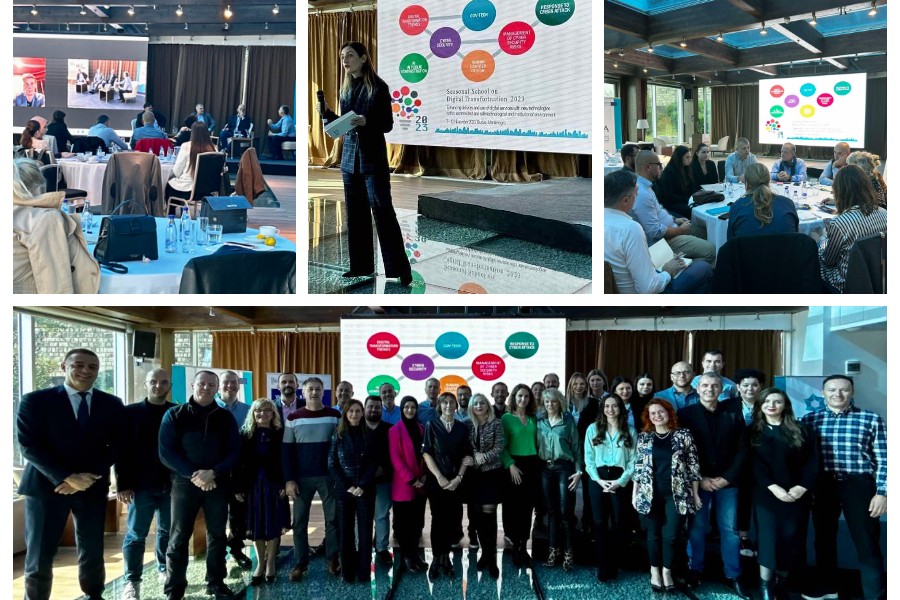 School on Digital Transformation: Underpinning the Region's Reform Efforts in Digitalization
---
Budva, Montenegro: 7-10 November 2023
ReSPA has a longstanding tradition of equipping public administration teams with practical knowledge, insights, and tools to enhance their capabilities in the field of e-government.
This year's extensive programme of the School provided a wealth of knowledge and experience from 15 distinguished experts, combined with the enormous knowledge and praxis of our participants, covering the areas identified as top priorities by ReSPA's working group members:
Enhancing the design of user-friendly and interoperable digital services for a bigger uptake of digital services;
Leveraging GovTech partnerships and AI as effective tools for modernising service delivery, continuously adapting to evolving citizen expectations;
Emphasizing the development of a cybersecurity framework to ensure the secure delivery of vital public services, safeguard sensitive data, and provide peace of mind to users.
"This Seasonal School represents our flagship initiative, carefully nurtured and developed over time. Our dedicated team has crafted an outstanding program aimed at promoting learning, facilitating peer interactions, and encouraging networking through various dialogues, group activities, and case studies. We have achieved this by adopting a regional approach, ideal for sharing experiences and drawing valuable insights from the best practices of the EU. As digitization extends beyond mere technology and necessitates more substantial transformation, including changes in culture, mindset, ethos, and revamped processes, there is still much work ahead of us. I encourage all of us to seize this opportunity to enhance our capabilities, establish connections, engage in stimulating discussions, and enjoy the experience," emphasized Maja HANDJISKA-TRENDAFILOVA, ReSPA Director.
During the four extensive days, 25 participants gained practical expertise in utilizing ICT and AI tools, forming GovTech partnerships, and prioritizing cybersecurity and interoperability in creating user-friendly digital services that cater to the ever-evolving demands of citizens. They delved deeply into various topics, including standards for design and delivery, the evolution of Human-Centered Design, interoperability to enhance the usability of digital services, and the creation and effective use of e-services with emerging technologies, along with cyber security measures for preparedness and response to cyberattacks.
Olivera DAMJANOVIĆ, ReSPA Programme Manager, highlighted, "In the design and delivery of digital services, every component contributing to user adoption is crucial. Government interfaces often suffer from poor user experiences. If, in addition, the delivery process is not seamless, data security concerns exist, or emerging technologies are not sufficiently known and might be used irresponsibly, it can erode trust. We aimed to address these challenges at this Seasonal School and believe we succeeded in equipping our participants with practical knowledge to tackle them. This year, we also placed special emphasis on cybersecurity in collaboration with the Western Balkans Cyber Capacity Centre, recognizing its critical importance for government efficiency and the digital security of our citizens."
In alignment with the administrations' needs to build capacities and align with EU initiatives, practices and policies, ReSPA is committed to continuing its efforts in providing relevant information, insights and knowledge across all areas of its work.