Training highlights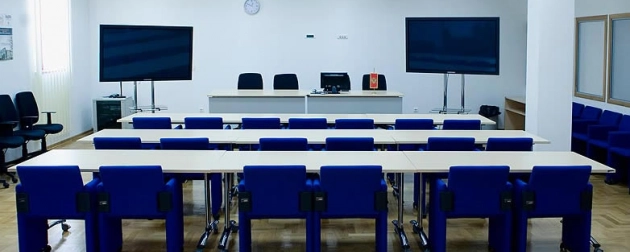 Workshop on " Leading the Change through Systemic Problem Solving "
Background
In the line with the Programme of Work (POW) 2014, ReSPA aims to support the CoP on HRM and the main topic of this event will be devoted to the most important thematic areas in the Western Balkans in domain of HRM/HRD on strategic, capacity needs level and in domain of national legal framework.
As one of the planned activities in ReSPA HRM/HRD roadmap for 2014 the integrated training on Leadership and Change Management has been foreseen. It has been base on the fact that competent public managers at senior level have to have the skills to guide and motivate the middle management and should be able to translate the requirements from external stakeholder groups into necessary internal structural and cultural reform programmes.
Following initial training on Leadership, a second three-day Team Development and Team Management workshop was delivered providing practical insights and best practices into Team Development and Team Management. It was focusing on leadership and provided participants further insights into group/team dynamics as well as hints and tips to successfully manage a team, and to better communicate with fellow colleagues. Participants gained the skills, theory and specialist knowledge needed to improve their team management, and ensure the application of effective communication in the team.
This training is a follow-up of the previous two workshops delivered in July and October. Its focus is one of the most important skills every leader should master, leading the change by problem-solving. Regardless of the nature of the problems, a fundamental part of leader's role is finding ways to solve them. So, being a confident problem solver and decision maker is really important to a leader's success and much of that confidence comes from having a good process to use when approaching a problem.
This workshop is challenging from the outset being a blend of trainer-led and experiential learning. It gives the participants a range of versatile and effective techniques, focusing on their real life challenges and enhancing learning from the previous training. In particular, participants will be engaged in case studies, group work, plenary discussions and creative problems solving in teams. They will be asked to identify their real life case studies to work on throughout the program, producing as a result a personalized action plans. In addition, the participants will be given an opportunity to exchange their expertise and ideas with peers through structured activities. All case studies and exercises take in consideration the needs of public administration organizations in the Western Balkans and link their learning activities to Change Management and Strategic Thinking context.
The key themes that will be explored in the course of the three-day workshop will include:
• Change Management and Organizational Culture
• The role of HR in Change Management process and its strategic interests
• The 6-step process for problem-solving including decision making
• Skills, techniques and tools for problem solving
• Generating solutions for real life case studies
• Learning from peers
All trainings